Destiny 2 is finally out – and you've been telling us what you think.
Sam Harrison, from Somerset, has taken two days off work to play the game and already says it's "so exciting and such a big improvement over Destiny 1".
"The Destiny universe is one that sucks me in from the very beginning," says Tim Byron from Kent.
Fans are also praising the "immersive story" – an improvement on one of the criticisms of the original Destiny from 2014.
Even though Destiny sold well and was generally well-reviewed, reviewers said it was too repetitive.
It is one of the most expensive games ever made.
Here's what you thought of the sequel…
Image caption Sam took two days off work to play Destiny 2
"I've played Destiny 2 for about four hours now and can say that it is definitely more Destiny, but with a renewed focus on storytelling and a lot of quality of life improvements," says Sam , 31.
"NPCs (non-player characters) being just out in the world available to talk to or trade with is a really neat change.
"Earlier I was walking on an adventure quest when I ran in to a public event.
"I stopped and joined in with a dozen other players to take down this event, then found a Lost Sector nearby and explored that.
"This was all mid mission. So exciting and such a big improvement over Destiny 1.
"Time will tell whether it is as excellent as it looks at the start – as I'll likely spend ten times as much time in the endgame as I will getting there.
"But so far, getting there has been really fun."
"Destiny 2 starts by stripping you of everything you know and leaving you vulnerable, in the face of a menacing new enemy," explains Tim Byron, 32, from Canterbury.
"New weapons, abilities, deep characters and an immersive story give you a real sense that you are the last hope of humanity.
"The Destiny universe is one that sucks me in from the very beginning and I've never looked back.
"I've made friends from all over the world that I play with on a regular basis, and I can't wait to share what promises to be a very exciting new adventure with them."
… and here's what the celebrities are saying
Watch Anthony Joshua talk to The Gaming Show about Destiny 2 on BBC iPlayer.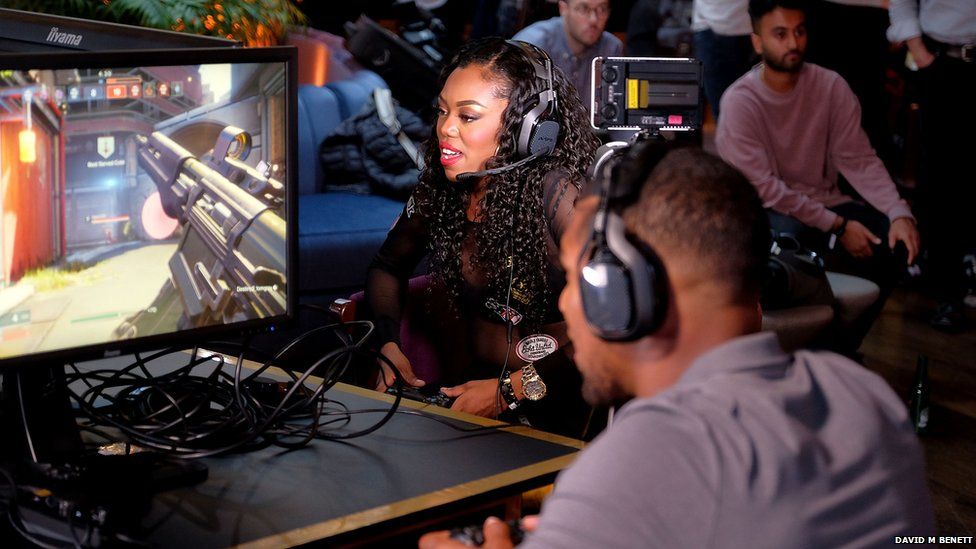 Image caption Lady Leshurr and Anthony Joshua at the launch of Destiny 2
Lady Leshurr got hold of a beta version of the game back in July.
"I'm not really a shooting game person usually," she told Newsbeat at the time.
But she said she found it "addictive… it's like an action movie."
The rapper was also at the launch of the game in London on Tuesday night, alongside stars such as Anthony Joshua, Jared Leto and Eric Dier.
Image caption Anthony Joshua, Lady Leshurr and Eric Dier were among the stars at the Destiny 2 launch event
"They've obviously put a lot of time and effort into creating the game. It was very challenging," said world heavyweight champion Joshua.
He'd also had a preview of Destiny 2 at Gamescom in August, where he spoke to the Radio 1 Gaming Show.
"This Destiny, they've all been captured in their own world," he said at the time.
"The story mode grabs me for sure".
It will be a while before we see whether the criticisms of the first Destiny have all been addressed as the story goes on.
But with criticism of Destiny 2 few and far between, developers Activision and Bungie may just have a success on their hands.
Find us on Instagram at BBCNewsbeat and follow us on Snapchat, search for bbc_newsbeat